alibi needs no excuse to jam
You may as well avoid the rush and sign up for the Alibi fan club now.
The club doesn't exist (yet) but plenty of people are talking up the three-piece acoutic quitars and keyboard combo from Southern Pines who play a lively and original blend of blues, jazz and folk.
Skip Follette owns Coaches Sports Grill on Bragg Boulevard. He was so impressed with an impromptu set by the two guitar players he hired the band to play every Thursday night plus the Great Guiness toast event Feb. 23.
"Their music is clean and fun," Follette said. "They bring another element of culture, eccentricity and class. When just the two of them played they blew everybody away. I could see people dancing in their chairs. Those kids have got something."
The band's biggest fans are other musicians, including Irish songwriter Paddy Gibney and acoustic duo Folk You Harder, aka Kerstin Hanson and Shannon Campbell.
"The reason I like them is because they're a great jam band, inspired by people like Phish and Dave Matthews, and they preserve the craft of songwriting at the same time," Campbell said.
come together
At Coaches last Thursday night the band—guitarists Nathan Davis and Austin Alexander and keyboard and bongo player John Henry Trinko—gathered over chicken wings and a steady stream of Winston and Camel cigarettes to talk about the state of the band, where they've been and what's next.
Davis is the band's primary lyricist and oldest member at 24. He habitually wears a brown fedora that, along with his glasses, casual clothes and soul patch, suggest a young, jazz-loving Woody Allen.
Davis comes from Southern Pines, but hasn't lived there since he was a teen-ager. At 17 he took his guitar on the road, playing the blues and hitchhiking and camping across the country from North Carolina to Florida ("too hot" he said) to New Orleans to Alabama to St. Louis.
"I just played my guitar," he said. "The people I met, especially in New Orleans, taught me to feel the notes instead of just playing them."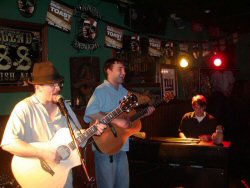 From St. Louis he flew to Alaska, where he spent some time before returning to Southern Pines last year, freshly single and without a job. His experiences on the road gave him raw material for his songs and a determination to make it on his own. Until he met Alexander and Trinko, anyway.
"I've been in and out of probably 15 or 20 bands in my life, and they didn't work because of egos or drugs or whatever," Davis said. "Nothing ever clicked like it does with these guys."
Alexander, who is 23, saw Davis perform solo at a Southern Pines club last year. Originally from West Virginia, Alexander dropped out of college after two years to follow jam band Phish on tour across the country. He ended up in Southern Pines, where his father lives, to attend Sandhills Community College.
Alexander and Davis met at a Southern Pines club called the Universal Joint and started jamming and writing together. "He started adding parts to stuff I had been doing for years that really brought out the soul of it," Davis said.
Alexander trained in the classical guitar style and honed his playing during free-for-all jams in the parking lot at Phish shows. "It's really free," he said, his round, bearded face looking out from under a Dylanesque black derby. "I met tons of great musicians. I would just walk around with my guitar and sit in with people around the campfire."
Trinko came to Southern Pines from Wisconsin early last year to visit his brother, a former member of the Army's Golden Knight parachute team. Trinko, too, saw Davis play at a club and asked to sit in."I went to hand him my guitar and he was like, no, I play the keyboards," Davis said. "I was like, well la-di-frickin-da."
Trinko had played piano since the fourth grade, but never in a band or even in front of other people. He was a jazz fan, perfectly happy with his life in Wisconsin with his girlfriend, Amy.
"Can you put in there that I used to make mustard?" he asked.
Consider it done. Trinko, who is 22, at one time earned his living as what he calls a "mustard elf." He concocted batches of gourmet mustard for East Shore Specialty Foods near Milwaukee. "It was one of the top five mustards in the country," he said.
Still, when Davis and Alexander asked him to move to North Carolina, he was intrigued. He and Amy discussed it on the plane ride home. That was in February of last year. By June they were living in Southern Pines."It felt right," he said.
southern blend
The three musicians and another friend, harmonica player Chad Stites, started playing and writing together constantly. Davis let several bands and other projects fall to the side while Alibi developed. Stites dropped out of the group because he didn't have the time to devote. Alexander and Trinko continued working as waiters while Davis helped manage his parents' rental properties.
They realized early on that the three of them sounded right together."We have what I call our trademark, this moment where we all come together on one beautiful, droning note and we look at each other and say, 'Let's do something,'" Alexander said.
Davis remembers a show at the Jefferson Inn in Southern Pines. They had been playing together about a month. "We had come to the point where we combining two songs and suddenly we just no clue what to do. I saw this look of panic on John Henry's face. Then we just sort of fell in and it was like this beam of light came out of my head. After the show that night I turned to them and said, 'We've got to do something with this.'"
The band draws from a wide range of influences to create their sound. Blues, jazz, folk, jam, rock and bluegrass can all be heard in their music. The songs often start slowly, build intuitively then hit that trademark moment, when Davis and Alexander's hands fly over their guitars, perfectly in sync, while Trinko spreads the keyboard sound behind them. Then it's his turn to jam, can take the form of anything from New Orleans boogie woogie to Ben Folds-style banging.
Trinko, who says he hated keyboards for a long time, plays a Yamaha Clavinova model, which pushes a big, piano-like sound. He even runs it through a wah pedal.
The songs can be rollicking and rocking or spacey, reflective and emotional, and you can't tell from moment to moment which way it's going to go. "We want people to wait and see what happens," Davis said. "Sometimes we don't know what's going to happen next. It's like we're in the audience watching ourselves."
"I was sick of being in bands where everything was established," Alexander said. "We do improvise a lot in our shows, to keep ourselves happy. We take good care of each other."
The band has recorded an 8-track CD—four live and four studio tracks—that should be available soon. They're not sure what will happen next, except that Trinko predicts the band will play Carnegie Hall one day and he has promised to buy his brother a red Porche 911 if he makes it big.
"We want to figure it out for ourselves," Davis said. "I've never been in a band with such potential. You'd have to be a jerk to walk away from that. We write music that touches people and needs to be heard."
Fan club line forms to the right.